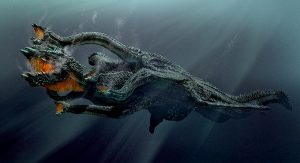 A DRAGON in the Bible? Yes! And we see it here in the Book of Job. What's more, we see a connection between this primordial enemy of God and the spirits of the Nephilim.
Even before God created the heavens and the earth, He subdued Chaos—variously called Leviathan, "the deep" (the abyss; Hebrew tehom), the sea (the Canaanite sea-god Yam), or, as here in Job 26:12, Rahab, "the fleeing serpent."
We also discuss the creation account of Job 26, which tells the story of the original chaoskampf, the struggle against Chaos (see Job 26:12-13).We also talk about the true meaning of "the north," the personification of Sheol and Abaddon, and why "the dead" of Job 26:5 does not refer to deceased humans. (It's another reference to the Rephaim, the spirits of the Nephilim.)
Other biblical references to God's victory over Chaos:
Genesis 1:2 (Tehom ["the deep"])
Job 7:12 ("sea monster" or "dragon")
Isaiah 27:1 (Leviathan, "fleeing serpent," "twisting serpent," "dragon")
Isaiah 51:9 (Rahab, "dragon" or "sea monster")
Psalm 74:12-14 (Leviathan, "sea monsters" or "dragons")
Psalm 89:9-10 (Yam ["the sea"], Rahab)
Proverbs 8:27-29 (Yam ["the sea"], Tehom ["the deep"])
Note that Hebrew tehom is essentially a cognate (same word, different language) for Tiamat, the Sumerian name for the primordial chaos-dragon.
---
Click here for the complete archive of our New Testament Bible studies to date, and click here for the Old Testament studies to date. Or go to www.spreaker.com/show/gilbert-house-fellowship for all of the audio.