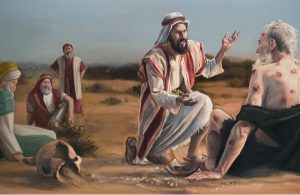 JOB DELIVERS what is essentially his closing argument, recalling the days when his life was blessed, a respected member of the community, contrasting it with his current situation as one who's mocked and despised. He asserts his innocence again, and issues another plea for a hearing.
And then chapter 32 opens with a new character entering the scene: Elihu, a young man who'd been listening silently to his elders, unloads on Job and his friends. He's angry at Job for justifying himself before God, and angry at his friends for accusing Job of sin without being able to answer him.
Here's the link to the book Derek mentioned: A Biography of the Christian Bible by Doug Woodward.
---
JOIN US IN ISRAEL! We will lead our next tour through the Holy Land March 31–April 9, 2024, with an optional three-day extension to Jordan, with visits to Mount Nebo, Wadi Rum, and Petra. Our special guest is Timothy Alberino!
For more information, log on to www.GilbertsInIsrael.com.
Click here for the complete archive of our New Testament Bible studies to date, and click here for the Old Testament studies to date. Or go to www.spreaker.com/show/gilbert-house-fellowship for all of the audio.