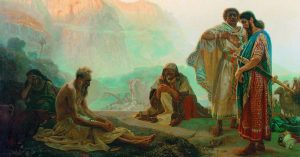 JOB'S FRIENDS grow increasingly accusatory as we go through the book. This week, we hear the final speeches of Zophar and Eliphaz, who have gone from gently reminding Job that God punishes the wicked to accusing their miserable, suffering friend of mistreating the poor, widowed, and homeless!
We speculate on the role of the accuser ("the satan") in provoking their aggressive responses to Job, discuss the title of God in these chapters, the Almighty, and again contrast English Bible translations based on the Masoretic Hebrew text with the Septuagint version produced by Jewish religious scholars a thousand years earlier.
---
Click here for the complete archive of our New Testament Bible studies to date, and click here for the Old Testament studies to date. Or go to www.spreaker.com/show/gilbert-house-fellowship for all of the audio.