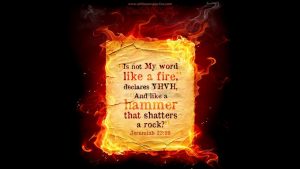 THE PROPHETS didn't have easy lives. Today's study follows Jeremiah through the last years of the kingdom of Judah, and the message God gave the prophet wasn't popular.
Because of his warnings of the imminent invasion by Babylon, Jeremiah was mocked and threatened with death even after Nebuchadnezzar had carried off the king of Judah and most of the country's ruling elites! We discuss parallels with our day, messianic prophecies within Jeremiah's warnings, and subtle references to Mount Hermon and enemies from the north, which were probably meant to indicate supernatural foes as well as the invaders from Babylon.
Here is the link to the article by Dr. Michael Heiser that Derek mentioned during the study (link opens PDF document). The section referring to the references to the divine council (Jeremiah 23:18-22) begins near the bottom of page 14. The money quote:
[V]isions or auditory revelations of Yahweh and His divine council were viewed in the Hebrew Bible as an authentication of the veracity of the prophet's message and status — a sort of test of true "propheticity."
---
Book Two of Sharon's series of supernatural thrillers The Redwing Saga, Blood Rites, is available now at Amazon!
Blood Lies: Book One of The Redwing Saga is available in paperback and now as a Kindle e-book!
Derek's book The Great Inception: Satan's PSYOPs from Eden to Armageddon is now an e-book for the Kindle and Nook! For free samples, click here for a series of articles drawn from material in the book, or click here for a series of short (5-10 minute) videos based on the book.
And Derek's new book The Day the Earth Stands Still, co-authored with Josh Peck, is available now! See www.OfficialDisclosure.com for more info.
---
Click here for the complete archive of our New Testament Bible studies to date, and click here for the Old Testament studies to date.