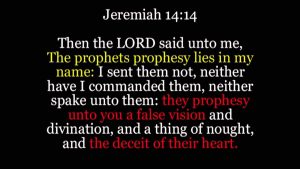 JEREMIAH'S PROPHECIES get even darker this week, and God tells him to proclaim famine, destruction, and pestilence for the rebellious kingdom of Judah.
The words given to him by the Lord are so dark that Pashhur, a priest whose father was in charge of temple supplies, had Jeremiah beaten and locked up in stocks. The calling of a true prophet is often unpleasant from a human perspective.
---
Book Two of Sharon's series of supernatural thrillers The Redwing Saga, Blood Rites, is available now at Amazon!
Blood Lies: Book One of The Redwing Saga is available in paperback and now as a Kindle e-book!
Derek's book The Great Inception: Satan's PSYOPs from Eden to Armageddon is now an e-book for the Kindle and Nook! For free samples, click here for a series of articles drawn from material in the book, or click here for a series of short (5-10 minute) videos based on the book.
---
Click here for the complete archive of our New Testament Bible studies to date, and click here for the Old Testament studies to date.