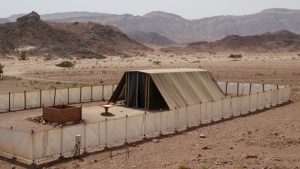 THE CONSTRUCTION of the tabernacle is the focus of this week's study—although, as usual, we follow some rabbit trails that lead us to other parts of the Bible.
We compare the number of stones in the high priest's ephod to the precious stones covering the rebel in Eden, as described in Ezekiel 28. That led us to another discovery—namely, that the Septuagint and some modern English translations, such as the New English Translation (NET), distinguish between the rebel (Satan) and the "guardian cherub," unlike the ESV and the King James Bible, which identify the rebel as the guardian cherub. See Ezekiel 28:14-16, and compare translations at BibleHub.
---
Our book Giants, Gods & Dragons is available in Kindle and paperback! Get it as part of a great package with more than 27 hours of our video teachings at the SkyWatchTV Store or at Amazon.com.
Our book Veneration is available for Amazon's Kindle e-book reader! Click here and find out why readers rate Veneration 4.7 out of 5, describing it as "a must read" that "opens up…the Bible's hidden mysteries."
Derek's novels The God Conspiracy and Iron Dragons are available in paperback and Kindle! See the official trailers and learn more at the website for Rose Avenue Fiction (www.roseavenuefiction.com).
Click here for the complete archive of our New Testament Bible studies to date, and click here for the Old Testament studies to date. Or go to www.spreaker.com/show/gilbert-house-fellowship for all of the audio.