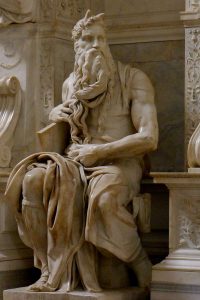 TAKE TWO at Mount Sinai: Moses goes back up the mountain for another 40 days and nights to get two new tablets to replace the ones he smashed.
We discuss the construction of the tabernacle and the willingness of the Israelites to contribute building materials after the unpleasantness following the golden calf incident. We also explain why the famed artist Michelangelo sculpted Moses with horns — it was a translation error that confused Hebrew qaran ("shone") with qeren ("horned").
Here is a link to Derek's interview with Andrew Hoy, a professional engineer and the author of The House of El Shaddai, in which he argues that the shape of the tabernacle was a dome rather than a rectangle.
---
Our book Giants, Gods & Dragons is available in Kindle and paperback! Get it as part of a great package with more than 27 hours of our video teachings at the SkyWatchTV Store or at Amazon.com.
Click here for the complete archive of our New Testament Bible studies to date, and click here for the Old Testament studies to date. Or go to www.spreaker.com/show/gilbert-house-fellowship for all of the audio.