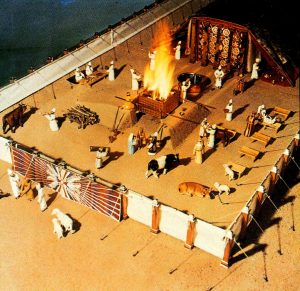 GOD GAVE very explicit instructions for the slaughter of animals required for the slaughter of animals for required offerings.
This week, we look at the first four: burnt, grain, peace, and sin offerings. (We'll get to guilt offering next week.) We note some of the seemingly random requirements, such as slaughtering the bull for the burnt offering on the north side of the altar, and God's repeated command to burn the long lobe of the liver, the organ used by pagans in their extispicy and haruspicy rituals to divine the future.
---
Our book Giants, Gods & Dragons is available in Kindle and paperback! Get it as part of a great package with more than 27 hours of our video teachings at the SkyWatchTV Store or at Amazon.com.
Derek's novels The God Conspiracy and Iron Dragons are available in paperback and Kindle! See the official trailers and learn more at the website for Rose Avenue Fiction (www.roseavenuefiction.com).
Click here for the complete archive of our New Testament Bible studies to date, and click here for the Old Testament studies to date. Or go to www.spreaker.com/show/gilbert-house-fellowship for all of the audio.