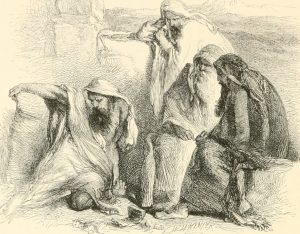 WE SEE the divine council worldview in the ongoing discourse of Eliphaz the Temanite, as he mentions the "Holy Ones," an epithet used elsewhere in the Old Testament for the Watchers (Daniel 4:13, 17).
We also discuss the hidden meaning of the "sparks" in Job 5:7, the bene resheph or "sons of Resheph," and the significance of the Canaanite plague-god Resheph (hint: Resheph was called Apollo by the Greeks and Romans).
Question: Which god did Eliphaz serve? Was he a pagan? We assume it was the God of Abraham, Isaac, and Jacob, but Job lived between the time of Noah and the birth of Abraham and God had not yet revealed His name to humanity. That happened hundreds of years later with Moses on Mount Sinai (Exodus 6:3).
So, assuming Eliphaz served the same God as Job, he would probably have known Yahweh as El Shaddai, a theory supported by Eliphaz' reference to "the Almighty" (shadday) in Job 5:17.
We also discuss other nouns such as "affliction," "trouble," "injustice," "destruction," and "famine," because those were often considered to be demonic entities in the ancient Near East. This is a great exercise in trying to get inside the head of someone who lived more than four thousand years ago on the other side of the world, although admittedly somewhat speculative.
The takeaway: Eliphaz rebuked Job for blaming God for his troubles, which Eliphaz appears to think are Job's fault for being insufficiently devout.
---
Click here for the complete archive of our New Testament Bible studies to date, and click here for the Old Testament studies to date. Or go to www.spreaker.com/show/gilbert-house-fellowship for all of the audio.