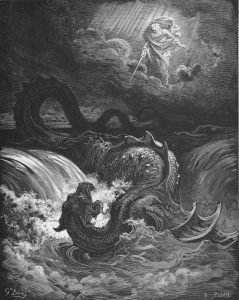 JOB REPLIES to the rebuke of Eliphaz and brings up some interesting points for our study this week. While admitting that God is just and all-powerful, the suffering Job still maintains that his complaints are justified.
We see another reference to the divine council in Job's mention of "the arrows of the Almighty (Shaddai)" and "the terrors of God."
Then we discuss Job's anguished question, "Am I the sea(-god) [Yam], or a sea monster [tannin; i.e., a dragon] that you set a guard over me?" (Job 7:12) This is a reference to Genesis 1:2 and God's taming of the forces of chaos, a theme to which Job returns in chapter 9, and which we'll see in depth later in our study of this book.
---
Click here for the complete archive of our New Testament Bible studies to date, and click here for the Old Testament studies to date. Or go to www.spreaker.com/show/gilbert-house-fellowship for all of the audio.