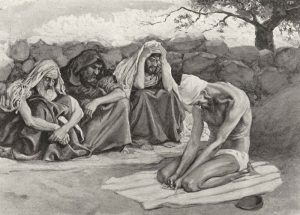 THE FRIENDS of Job are to be commended for giving up so much of their time to commiserate with him in his suffering. However, their understanding of the cause of his suffering was incomplete.
At least they were more encouraging than Job's wife, who advised him to "curse God and die." We discuss the divine council reference in Job 2, the nature of Satan (or "the satan"), the location of the home of Eliphaz the Temanite, another clue that Job lived somewhere in what later became Edom (possibly near Petra), Job's wish that he'd never been born, a veiled reference to the spirits of the Rephaim in Job 3:14-15, and Eliphaz's description of what sounds like sleep paralysis or night terrors when he was visited by Pachad, a demonic spirit called "Terror."
The book Sharon mentioned during the program, A Commentary on the Book of Job by Rev. Jonathan Kelsey Burr, published in 1879, is available for free from Google Books. Click here to download the PDF or add it to Google Play Books.
---
Click here for the complete archive of our New Testament Bible studies to date, and click here for the Old Testament studies to date. Or go to www.spreaker.com/show/gilbert-house-fellowship for all of the audio.