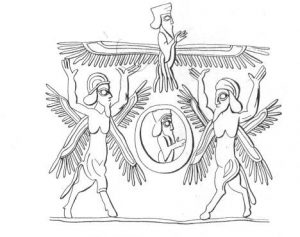 EZEKIEL DID not see a spacecraft. Those who think he did are mistaken.
We conclude our study of the Book of Lamentations, which describes the desperate conditions of those in Jerusalem at the time of its destruction by Babylon. We note the parallel between "kings of the earth" in Lamentations 4:12 and Canaanite texts that refer to the "Rephaim of the earth" (i.e., a possible reference by Jeremiah to spirits of the evil dead).
Then we begin our study of Ezekiel with the account of Ezekiel's Wheel. Contrary to the belief of many in the UFO community, Ezekiel wasn't witness to an ancient spaceship. In our modern age, we simply don't recognize divine throne room imagery that would have been recognized not only by Ezekiel, but anyone living in Mesopotamia 2,600 years ago.
Reference links:
---
Download our free mobile app! Links to the App Store and Google Play store are posted at www.GilbertHouse.org.
Two spots have just opened up on the True Legends Expedition to Rome and Sardinia May 20-27! If you'd like to join us, log on to www.GenSix.com.
Join us in Dallas March 22-25 for the 2018 Hear the Watchmen Conference! Save $20 on registration or 20% off the video feed with the promo code GILBERT20 at www.HearTheWatchmen.com.
Book Three of Sharon's series of supernatural thrillers The Redwing Saga, The Blood is the Life, is available now at Amazon! Here are the links for Book Two of The Redwing Saga, Blood Rites, and Blood Lies: Book One of The Redwing Saga, and here's the link for Sharon's author page at Amazon.com.
Derek's new book The Day the Earth Stands Still: Unmasking the Old Gods Behind UFOs, ETs, and the Official Disclosure Movement, co-authored with Josh Peck, is available now in paperback and as a Kindle e-book! See www.OfficialDisclosure.com for more info.
Derek's book The Great Inception: Satan's PSYOPs from Eden to Armageddon is now an e-book for the Kindle and Nook! For free samples, click here for articles from the book, or click here for a series of short (5-10 minute) videos based on the book.
---
Click here for the complete archive of our New Testament Bible studies to date, and click here for the Old Testament studies to date. Or go to www.spreaker.com/show/gilbert-house-fellowship for all of the audio.