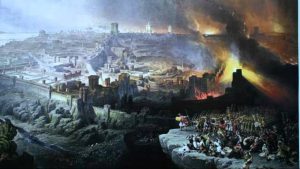 THERE ARE times when God brings correction into our lives, although not always as drastically as He did to the kingdom of Judah in 586 B.C.
The Book of Lamentations is a series of five poems, possibly written by the prophet Jeremiah, in the wake of the destruction of the city of Jerusalem by Babylon. Today, we look at the first three chapters, which are filled with heart-rending grief and loneliness, even as the author acknowledges that the disaster wrought by Babylon was deserved because of the sin of God's people.
---
Two spots have just opened up on the True Legends Expedition to Rome and Sardinia May 20-27! If you'd like to join us, log on to www.GenSix.com.
Join us in Dallas March 22-25 for the 2018 Hear the Watchmen Conference! Save $20 on registration or 20% off the video feed with the promo code GILBERT20 at www.HearTheWatchmen.com.
Book Three of Sharon's series of supernatural thrillers The Redwing Saga, The Blood is the Life, is available now at Amazon! Here are the links for Book Two of The Redwing Saga, Blood Rites, and Blood Lies: Book One of The Redwing Saga, and here's the link for Sharon's author page at Amazon.com.
Derek's new book The Day the Earth Stands Still: Unmasking the Old Gods Behind UFOs, ETs, and the Official Disclosure Movement, co-authored with Josh Peck, is available now in paperback and as a Kindle e-book! See www.OfficialDisclosure.com for more info.
Derek's book The Great Inception: Satan's PSYOPs from Eden to Armageddon is now an e-book for the Kindle and Nook! For free samples, click here for articles from the book, or click here for a series of short (5-10 minute) videos based on the book.
---
Click here for the complete archive of our New Testament Bible studies to date, and click here for the Old Testament studies to date. Or go to www.spreaker.com/show/gilbert-house-fellowship for all of the audio.