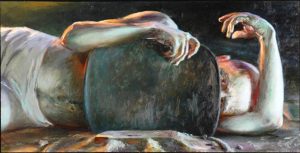 THE TRUE test of prophets is whether they have "stood in the council of YHWH to see and hear His word." (Jer. 23:18)
This week, we discuss the calling of Ezekiel and God's first commands to the prophet — to prophesy to "a rebellious house," the scattered people of Israel, and to do so in a rather unpleasant way.
Download our free mobile app! Links to the App Store and Google Play store are posted at www.GilbertHouse.org.
Two spots have just opened up on the True Legends Expedition to Rome and Sardinia May 20-27! If you'd like to join us, log on to www.GenSix.com.
The 2018 Hear the Watchmen Conference in Dallas is just about sold out, but you can still save 20% off the video feed with the promo code GILBERT20 at www.HearTheWatchmen.com.
Book Three of Sharon's series of supernatural thrillers The Redwing Saga, The Blood is the Life, is available now at Amazon! Here are the links for Book Two of The Redwing Saga, Blood Rites, and Blood Lies: Book One of The Redwing Saga, and here's the link for Sharon's author page at Amazon.com.
Derek's new book The Day the Earth Stands Still: Unmasking the Old Gods Behind UFOs, ETs, and the Official Disclosure Movement, co-authored with Josh Peck, is available now in paperback and as a Kindle e-book! See www.OfficialDisclosure.com for more info.
Derek's book The Great Inception: Satan's PSYOPs from Eden to Armageddon is now an e-book for the Kindle and Nook! For free samples, click here for articles from the book, or click here for a series of short (5-10 minute) videos based on the book.
---
Click here for the complete archive of our New Testament Bible studies to date, and click here for the Old Testament studies to date. Or go to www.spreaker.com/show/gilbert-house-fellowship for all of the audio.