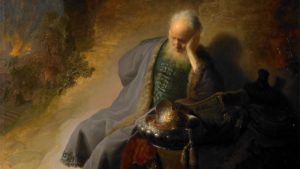 THE HEARTBREAK of Jeremiah at the prophesied destruction of Jerusalem is evident in this week's reading:
My anguish, my anguish! I writhe in pain! Oh the walls of my heart! My heart is beating wildly; I cannot keep silent, for I hear the sound of the trumpet, the alarm of war.
Jeremiah 4:19 (ESV)

We discuss God's condemnation of the faithlessness of the kingdom of Judah, which is startling coming as it did within living memory of the reforms of the good king Josiah.
Here are the links on tophets — burial sites for sacrificed children — that Derek mentioned:
Hey! Book Two of Sharon's series of supernatural thrillers The Redwing Saga, Blood Rites, is available now at Amazon!
Blood Lies: Book One of The Redwing Saga is available in paperback and now as a Kindle e-book!
Derek's book The Great Inception: Satan's PSYOPs from Eden to Armageddon is now an e-book for the Kindle and Nook! For free samples, click here for a series of articles drawn from material in the book, or click here for a series of short (5-10 minute) videos based on the book.
---
Click here for the complete archive of our New Testament Bible studies to date, and click here for the Old Testament studies to date.