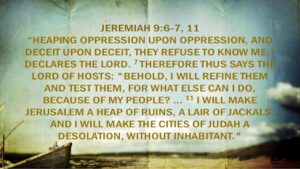 CONDEMNATION AND promise are the themes of Jeremiah's prophecy against Judah in this week's study. We discuss the coming punishment of the rebellious kingdom of Judah, which was just a few years away from being invaded by Nebuchadnezzar of Babylon, turning Jerusalem into a "lair of jackals" (or "dragons"), God's decree that "the gods who did not make the heavens and the earth shall perish," and His promise that Judah and the nations of the earth would be restored if they turned back to Him.
We also review the significance of the Tophet Jeremiah mentioned in chapter 7 and its relevance to the gods allotted to the nations by Yahweh after the Tower of Babel incident (see Deuteronomy 32:8-9 and 4:19-20).
Here's the link to the video of Derek's presentation "Last Clash of the Titans," a preview of what he's working on for his next solo book.
Hey! Book Two of Sharon's series of supernatural thrillers The Redwing Saga, Blood Rites, is available now at Amazon!
Blood Lies: Book One of The Redwing Saga is available in paperback and now as a Kindle e-book!
Derek's book The Great Inception: Satan's PSYOPs from Eden to Armageddon is now an e-book for the Kindle and Nook! For free samples, click here for a series of articles drawn from material in the book, or click here for a series of short (5-10 minute) videos based on the book.
---
Click here for the complete archive of our New Testament Bible studies to date, and click here for the Old Testament studies to date.