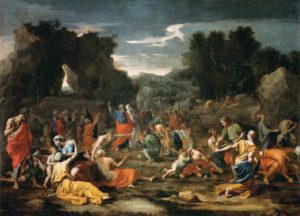 THE ISRAELITES escaped the hand of Pharaoh, but now they're in the desert wilderness and tempers are growing short.  How long before they start complaining?
We also discuss the Ten Commandments, the battle in front of Baal-Zaphon and the final battle for Yahweh's holy mountain, and more references to the Divine Council.
See Cris Putnam's excellent five-part article Armageddon: The OT Background to the Battle for the Cosmic Mountain. See also this paper by Dr. Michael S. Heiser, The Divine Council and Biblical Theology.