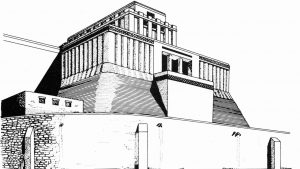 PRIDE AND a drift away from the Creator is evident in today's study, which features the generations of patriarchs between Adam and Noah.
We discuss the first city built (Gen. 4:17) and explain why we think the builder was Cain's son, Enoch (not the Enoch who "walked with God," who was a descendant of Seth). That was probably the ancient city of Eridu, home of the god Enki, lord of the abyss, site of the oldest and largest ziggurat in Mesopotamia.
We also discuss the pride of Lamech, descendant of Cain, and his boast that his death would be avenged seventy-seven times, the reason for the sudden emergence of civilization in ancient Sumer, and why the descendants of Cain may have been lured into creating a society based around cities rather than a rural or pastoral culture.
Here's the link to Derek's article "Cain, Coneheads, and the Old Gods of Sumer," which is excerpted from his book The Great Inception.
---
Click here for the complete archive of our New Testament Bible studies to date, and click here for the Old Testament studies to date. Or go to www.spreaker.com/show/gilbert-house-fellowship for all of the audio.