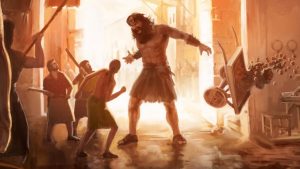 AT SOME point in our distant past, angels descended to the summit of Mount Hermon and made a pact to corrupt the earth through interbreeding and sharing knowledge that humanity was not meant to know.
This week, we begin to decipher one of the strangest, but most important, sections of scripture in the Bible. We explain why Genesis 6 means what it says and compare it to the extrabiblical account in the Book of 1 Enoch.
Here's a link to an article Derek wrote for the All Pro Pastors website, "Sons of Gods, Fathers of Giants," to explain why the "sons of God" were, in fact, angels, and the Nephilim were, in fact, giants.
NOTE: This week's episode is shorter than usual because it appears our audio mixer is beginning to fail. We'll have that problem fixed for our next episode on August 11!

---
Click here for the complete archive of our New Testament Bible studies to date, and click here for the Old Testament studies to date. Or go to www.spreaker.com/show/gilbert-house-fellowship for all of the audio.