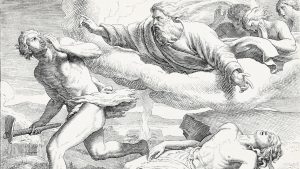 FAMILY RELATIONSHIPS have been messed up for millennia because of what happened in Eden.
This week, we discuss the consequences of eating the forbidden fruit, taking a deep dive into Genesis 3:16, a difficult passage that suggests husbands and wives have been cursed by sin to struggle with one another for control.
Then we talk about the curse directed at the serpent and explain why it has more to do with the Mesopotamian concept of the netherworld than why snakes don't have legs. (Snakes never had legs.) We also deal with the old "serpent seed" heresy, which is debunked simply by reading Genesis 4:1. Cain was the son of Adam, not Satan.
Finally, we discuss the murder of Abel, speculating that at least one fallen entity whispered to Cain to encourage the shedding of his brother's blood.
---
Click here for the complete archive of our New Testament Bible studies to date, and click here for the Old Testament studies to date. Or go to www.spreaker.com/show/gilbert-house-fellowship for all of the audio.