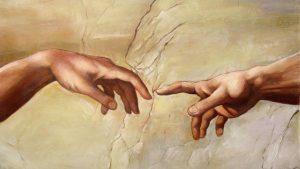 GARDENS WERE not just for growing vegetables in the ancient world.
This week, as we study days five through seven of Creation Week, we discuss the spiritual significance of gardens in the ancient world and their connection to the cult of divinized ancestors, especially dead kings—in other words, the mighty men who were of old.
We also discuss the identity of the "we" and "us" whose image we bear, the importance of the Tree of the Knowledge of Good and Evil, and dig into the original Hebrew behind English words like "sea creatures," "birds," and "breath of life."
Here's the link to the article on the purpose of the Tree of the Knowledge of Good and Evil Derek mentioned during the study.
---
Richard Shaw, the award-winning director of Beat the Drum, the Torah Codes film, Gaza, The Watchers series and much more passed away very suddenly and unexpectedly on June 20th, 2019.
Because of Richard's sudden passing, we're asking for your help in supporting his wife, Mary. Click here for the GoFundMe page set up by L. A. Marzulli.
---
Click here for the complete archive of our New Testament Bible studies to date, and click here for the Old Testament studies to date. Or go to www.spreaker.com/show/gilbert-house-fellowship for all of the audio.