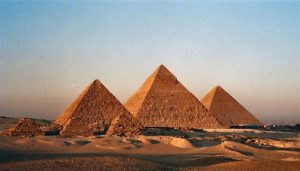 JUST AS God used the king of Tyre to describe His judgment against the rebel from Eden, the "anointed guardian cherub," He used the pharaoh of Egypt to describe His judgment against the spirit of chaos, which was represented by the sea monster Leviathan.
Here are the verses that describe the conflict between God and chaos:
---
Book Four of Sharon's series of supernatural thrillers The Redwing Saga, Realms of Stone, is available now at Amazon!
Here are the links for Book Three of The Redwing Saga, The Blood is the Life; Book Two, Blood Rites; and Blood Lies: Book One of The Redwing Saga. Visit Sharon's author page at Amazon.com for more.
Derek's latest book The Day the Earth Stands Still: Unmasking the Old Gods Behind UFOs, ETs, and the Official Disclosure Movement, co-authored with Josh Peck, is available now in paperback and as a Kindle e-book! See www.OfficialDisclosure.com for more info.
Derek's book The Great Inception: Satan's PSYOPs from Eden to Armageddon is now an e-book for the Kindle and Nook! For free samples, click here for articles from the book, or click here for a series of short (5-10 minute) videos based on the book.
---
Click here for the complete archive of our New Testament Bible studies to date, and click here for the Old Testament studies to date. Or go to www.spreaker.com/show/gilbert-house-fellowship for all of the audio.