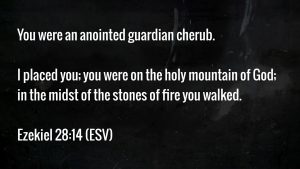 ONE OF the most cryptic and fascinating sections in the entire Bible is the focus of our study this week: On the surface, it's a message from God to the Prince of Tyre, who, at the time of Ezekiel, was a man named Ithobaal III. However, it's clear from the context that this was really directed at the divine rebel from Eden.
We discuss the location of Tyre and why the "heart of the seas" was more likely a reference to the abode of the Canaanite god El or the Sumerian god Enki; the true identity of Daniel in Ezekiel 28:3 (it probably wasn't the prophet; Danel is called a "follower of Rapiu" [a god whose name is the singular form of "Rephaim"] and a "Man of Hermon" in the Ugaritic text); the role of the cherubim on Eden, which Ezekiel called "the holy mountain of God," and the parallels to Isaiah 14.
Here is a link to a translation of the Ugaritic Epic of Aqhat, which mentions the Amorite hero Danel, and here is a link to a brief analysis of the story.
---
Book Four of Sharon's series of supernatural thrillers The Redwing Saga, Realms of Stone, is available now at Amazon!
Here are the links for Book Three of The Redwing Saga, The Blood is the Life; Book Two, Blood Rites; and Blood Lies: Book One of The Redwing Saga. Visit Sharon's author page at Amazon.com for more.
Derek's latest book The Day the Earth Stands Still: Unmasking the Old Gods Behind UFOs, ETs, and the Official Disclosure Movement, co-authored with Josh Peck, is available now in paperback and as a Kindle e-book! See www.OfficialDisclosure.com for more info.
Derek's book The Great Inception: Satan's PSYOPs from Eden to Armageddon is now an e-book for the Kindle and Nook! For free samples, click here for articles from the book, or click here for a series of short (5-10 minute) videos based on the book.
---
Click here for the complete archive of our New Testament Bible studies to date, and click here for the Old Testament studies to date. Or go to www.spreaker.com/show/gilbert-house-fellowship for all of the audio.