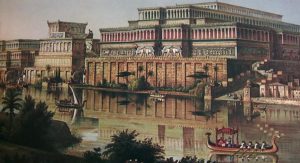 THE DESTRUCTION of Assyria and the prophetic implications of its destruction are the focus of this week's study.
Although the Assyrians had been used by God to punish the northern kingdom, Israel, for its apostasy, He saved Judah and Jerusalem through miraculous intervention. We discuss Hezekiah and his fall into destructive pride, the sin and repentance of Manasseh, and the brief reign of Manasseh's son Amon, who obviously didn't learn a thing from his father's mistakes.
Then we analyze the prophecy of Nahum against the Assyrian capital of Nineveh and find surprising connections between Assyria and the kingdom that destroyed it, Babylon.
Join us at the Blessed Hope Prophecy Forum October 13-15, 2017 in Norman, Oklahoma! 33 experts on Bible prophecy, geopolitics, theology, and archaeology will gather at the Embassy Suites in Norman for the prophecy event of the year. If you can't attend, the live video stream delivers 44 presentations from the speakers to you via the Internet, and all messages are archived for 60 days after the conference.
For information and registration, log on to www.ProphecyWatchers.com.
---
Sharon's supernatural thriller Blood Lies: Book One of The Redwing Saga is available in paperback and as a Kindle e-book!
Hey! Book Two of The Redwing Saga, Blood Rites, is available now at Amazon!
Derek's book The Great Inception: Satan's PSYOPs from Eden to Armageddon is now an e-book for the Kindle and Nook! For free samples, click here for a series of articles drawn from material in the book, or click here for a series of short (5-10 minute) videos based on the book.
---
Click here for the complete archive of our New Testament Bible studies to date, and click here for the Old Testament studies to date.