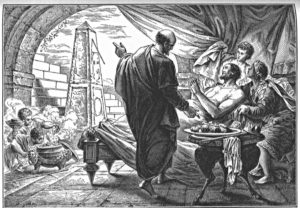 ISAIAH'S PROPHECY of a new heaven and new Earth is the focus of this week's Old Testament study. We note sections where Isaiah is cited by later prophets, highlight another example of the divine council worldview (God's condemnation of a ritual meal for the Canaanite gods Gad and Meni), and discuss the parallels between the last chapters of Isaiah and the last chapters of Revelation.
We also return to the history of 2 Kings for Hezekiah's miraculous healing and a summary of the reign of his wicked son and grandson, Manasseh and Amon.
Sharon's supernatural thriller Blood Lies: Book One of The Redwing Saga is available in paperback and as a Kindle e-book!
Hey! Book Two of The Redwing Saga, Blood Rites, is available now at Amazon!
Derek's book The Great Inception: Satan's PSYOPs from Eden to Armageddon is now an e-book for the Kindle and Nook! For free samples, click here for a series of articles drawn from material in the book, or click here for a series of short (5-10 minute) videos based on the book.
---
Click here for the complete archive of our New Testament Bible studies to date, and click here for the Old Testament studies to date.