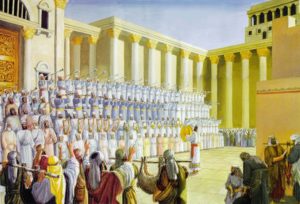 HEZEKIAH WAS a better king than any since David, and better than all those who followed. He repaired and restored the Temple, reinstituted the worship of Yahweh, and tore down the high places devoted to Baal and Astarte (not just in Judah, but in Israel, too).
We discuss the works of Hezekiah and the difference in focus between the accounts in 2 Kings and 2 Chronicles. Then we analyze Psalm 48 and its praise for Zion, God's holy mountain, in light of the divine council paradigm. Hint: The Psalmist compares Zion to another holy mountain, and in so doing links the divine rebel in Eden (Isaiah 14) to the prophecy of Gog and Magog (Ezekiel 38).
Sharon's new supernatural thriller Blood Lies: Book One of The Redwing Saga is now available! Click here to order Blood Lies in paperback, and click here to buy Blood Lies as a Kindle e-book.
Derek's new book The Great Inception: Satan's PSYOPs from Eden to Armageddon is the #1 New Release in Christian Prophecy at Amazon! For free samples, click here for a series of articles drawn from material in the book, or click here for a series of short (5-10 minute) videos based on the book.
---
Click here for the complete archive of our New Testament Bible studies to date, and click here for the Old Testament studies to date.