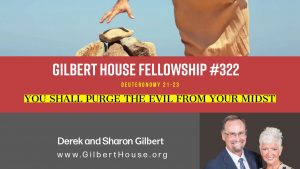 THE PUNISHMENT God ordered for a number of sins, ranging from sexual relations before marriage (for women) to rebelling against one's parents (for sons), seems harsh by today's standards.
We discuss the cultural and spiritual contexts for a number of things declared sin by God. Many of these things make no sense to us today because we don't understand the world of the prophets and apostles or how these behaviors were connected to pagan religions of the day.
---
Our book Giants, Gods & Dragons is available in Kindle and paperback! Get it as part of a great package with more than 27 hours of our video teachings at the SkyWatchTV Store or at Amazon.com.
JOIN US IN ISRAEL! We will lead our next tour through the Holy Land March 19 – 30, 2023, with an optional three-day extension to Jordan, with visits to Mount Nebo, Wadi Rum, and Petra. For more information, log on to www.SkyWatchinIsrael.com.
Derek's novels The God Conspiracy and Iron Dragons are available in paperback and Kindle! See the official trailers and learn more at the website for Rose Avenue Fiction (www.roseavenuefiction.com).
Click here for the complete archive of our New Testament Bible studies to date, and click here for the Old Testament studies to date. Or go to www.spreaker.com/show/gilbert-house-fellowship for all of the audio.