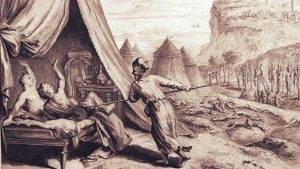 BALAAM WAS unable to curse Israel, but the people were lured into worshiping a god called Baal-Peor—with disastrous consequences.
In His anger, God sent a plague that killed 24,000 Israelites. It was only stopped when Aaron's grandson, Phinehas, speared a young Israelite man and Midianite woman engaged in what was probably a fertility rite.
We explain why this conflict was more than meets the eye, especially from our modern perspective. The Baal of Peor, a name that means something like "lord of the gates of hell," was connected to veneration of the Rephaim, demonic spirits of the Nephilim called "Travelers" by the pagans in the Levant. This is reflected in the names of a station of the Exodus, Iye-Abarim ("ruins of the Travelers"), which was in the vicinity of Mount Nebo—which itself was called "this mountain of Abarim [Travelers]" (Num. 27:12).
We also explain why we believe Baal-Peor was a title given to the creator-god of the Canaanites, El, who we believe is to be identified as Shemihazah, chief of the Watchers who came to earth and commingled with human woman—the story briefly described in Genesis 6:1–4 (see also 2 Peter 2:4–10 and Jude 6–7).
In short, the episode recorded in Numbers 25 (with further explanation in Psalm 106:28–29) is spiritual warfare against the spirits of the Nephilim and the chief of the rebellious "sons of God" who created them.
Subscribe to the new SkyWatchTV channel at Rumble: www.rumble.com/skywatchtv.
---
JOIN US IN ISRAEL! We will lead our next tour through the Holy Land March 31–April 9, 2024, with an optional three-day extension to Jordan, with visits to Mount Nebo, Wadi Rum, and Petra. Our special guest is Timothy Alberino!
For more information, log on to www.GilbertsInIsrael.com.
Our book Giants, Gods & Dragons is available in Kindle and paperback! Get it as part of a great package with more than 27 hours of our video teachings at the SkyWatchTV Store or at Amazon.com.
The latest installment of Sharon's Redwing Saga, King's Gambit, is available now in paperback and Kindle! Visit Sharon's author page at Amazon.com for more.
Derek's novels The God Conspiracy and Iron Dragons are available in paperback and Kindle! See the official trailers and learn more at the website for Rose Avenue Fiction (www.roseavenuefiction.com).
Click here for the complete archive of our New Testament Bible studies to date, and click here for the Old Testament studies to date. Or go to www.spreaker.com/show/gilbert-house-fellowship for all of the audio.