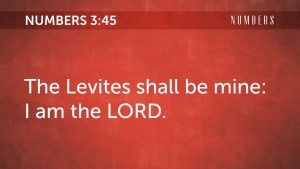 GOD CLAIMED for Himself the tribe of Levi in lieu of the firstborn sons of all Israel. We discuss the duties of the clans of the Levites—the Kohathites, Gershonites, and Merarites—and why it was imperative that only the high priest entered the Holiest Place.
We also discuss rules concerning unclean people, confession of and restitution for sins, and a test for adultery that seems odd, if not unfair, by the standards of today.
---
Derek is one of the speakers for the Discerning Minds Virtual Conference March 26-28, 2021. Find out more and sign up at www.HearTheWatchmen.com.
JOIN US IN ISRAEL! We will lead our next tour through the Holy Land March 19 – 30, 2023, with an optional three-day extension to Jordan, with visits to Mount Nebo, Wadi Rum, and Petra. For more information, log on to www.SkyWatchinIsrael.com.
Our book Giants, Gods & Dragons is available in Kindle and paperback! Get it as part of a great package with more than 27 hours of our video teachings at the SkyWatchTV Store or at Amazon.com.
The latest installment of Sharon's Redwing Saga, King's Gambit, is available now in paperback and Kindle! Visit Sharon's author page at Amazon.com for more.
Derek's novels The God Conspiracy and Iron Dragons are available in paperback and Kindle! See the official trailers and learn more at the website for Rose Avenue Fiction (www.roseavenuefiction.com).
Click here for the complete archive of our New Testament Bible studies to date, and click here for the Old Testament studies to date. Or go to www.spreaker.com/show/gilbert-house-fellowship for all of the audio.