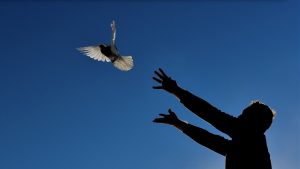 ISRAEL WAS commanded to be holy because God was literally in their midst. The Law set them apart for Yahweh, distinct from other people.
We note that some foods declared unclean, especially pigs, may have been so designated because of their use in pagan rituals (in the case of pigs, as offerings to the dead). However, the bottom line is that God established very specific rituals for washing and sacrificing to maintain holiness—a Law that only changed upon Christ's ascension to sit at the right hand of God (see Hebrews chapters 7 through 10).
---
Our book Giants, Gods & Dragons is available in Kindle and paperback! Get it as part of a great package with more than 27 hours of our video teachings at the SkyWatchTV Store or at Amazon.com.
JOIN US IN ISRAEL! We will lead our next tour through the Holy Land March 19 – 30, 2023, with an optional three-day extension to Jordan, with visits to Mount Nebo, Wadi Rum, and Petra. For more information, log on to www.SkyWatchinIsrael.com.
Click here for the complete archive of our New Testament Bible studies to date, and click here for the Old Testament studies to date. Or go to www.spreaker.com/show/gilbert-house-fellowship for all of the audio.