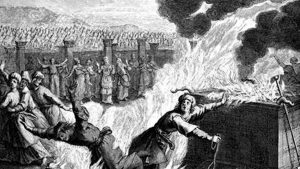 THE FORMAL beginning of the Levitical priesthood and the sacrificial system is the focus of this week's study.
After going through the rules for the sacrifices in our last couple of studies, this week we discuss the formal ordination of Aaron and his sons.
Sadly for Nadab and Abihu, their term as priests didn't last very long. Leviticus 10 describes their destruction by God for offering unauthorized (or "strange") fire before the Lord. To be honest, their specific transgression is not named in the Bible; it may be that they hadn't prepared incense according to the instructions of Exodus 30:34-38, or it may be that they weren't even supposed to burn incense since that task had been appointed to Aaron (Ex. 30:7-8). Perhaps Aaron's sons thought that burning some unauthorized incense would curry God's favor and earn them a promotion ahead of their father.
Whatever the reason, it was a hard lesson that God is to be respected and His will is to be done—a lesson the modern church seems to take all too lightly.
---
Our book Giants, Gods & Dragons is available in Kindle and paperback! Get it as part of a great package with more than 27 hours of our video teachings at the SkyWatchTV Store or at Amazon.com.
Derek's novels The God Conspiracy and Iron Dragons are available in paperback and Kindle! See the official trailers and learn more at the website for Rose Avenue Fiction (www.roseavenuefiction.com).
Our book Veneration is available for Amazon's Kindle e-book reader! Click here and find out why readers rate Veneration 4.7 out of 5, describing it as "a must read" that "opens up…the Bible's hidden mysteries."
Click here for the complete archive of our New Testament Bible studies to date, and click here for the Old Testament studies to date. Or go to www.spreaker.com/show/gilbert-house-fellowship for all of the audio.