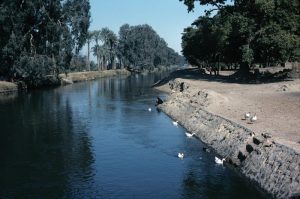 ALL OF us have had a wilderness experience of one kind of another. For Joseph, much of it was spent in prison cells.
Two years after interpreting dreams for the baker and cupbearer for the king of Egypt, Joseph is summoned to make sense of a pair of disturbing dreams for the pharaoh. You know the story: God showed the king that seven years of plenty would be followed by seven years of famine. Pharaoh placed Joseph in charge of storing up grain for the lean years.
We discuss the reason that God allowed Joseph to endure years in a foreign land. It was more than just saving his family from famine; this was God's long game to set Israel apart from its pagan, Semitic-speaking neighbors.
---
Click here for the complete archive of our New Testament Bible studies to date, and click here for the Old Testament studies to date. Or go to www.spreaker.com/show/gilbert-house-fellowship for all of the audio.