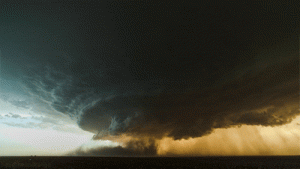 GOD ARRIVES on the scene to respond to Job's complaints, and boy, does He bring the thunder. Literally.
Speaking from a whirlwind, which is an image that had been co-opted by the fallen elohim to represent the Mesopotamian storm-god called Addu or Hadad (i.e., Baal).
In fact, there are multiple references to the spirit realm and its rebellion in Job 38. God establishes His unequaled status in all Creation by reminding Job that he wasn't there when God "laid the foundations of the earth" and "determined its measurements" while "all the sons of God [angels] shouted for joy".
God also mentions the chaoskampf ("struggle against chaos") in verses 8-11, which are more than a description of God separating the land from the sea; this is a reference to a well-known story in the ancient Near East in which a warrior god subdues the forces of chaos represented by the sea or a sea-dragon (called Leviathan and Rahab in the Bible). We've encountered this already in Job 7:12, 9:13, and especially 26:5-13. (Go back to GHF #250 for a deeper dive into the chaoskampf).
---
Our book Veneration is available for Amazon's Kindle e-book reader! Click here and find out why readers rate Veneration 4.7 out of 5, describing it as "a must read" that "opens up…the Bible's hidden mysteries."
NOTE: New dates for our 2024 tour of Israel! We will lead our next tour through the Holy Land November 1–10, 2024 (dates pending confirmation with Lipkin Tours, with an optional three-day extension to Jordan featuring visits to Mount Nebo, Wadi Rum, and Petra. Our special guest is Timothy Alberino!
For more information, log on to www.GilbertsInIsrael.com.
Click here for the complete archive of our New Testament Bible studies to date, and click here for the Old Testament studies to date. Or go to www.spreaker.com/show/gilbert-house-fellowship for all of the audio.