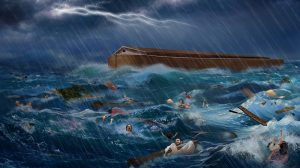 THE STORY of a global flood is common to many cultures all over the world. Today, we read the real story behind the flood of Noah.
We read the corresponding chapters in the Book of 1 Enoch that expand on Genesis 6:1-4. It was more than just human sin that led to the Flood; the Watchers and their monstrous offspring brought witchcraft, sexual depravity, and even cannibalism to the earth.
We also connect the length of time that water covered the earth, including all of the high mountains (places of spiritual significance) to the time allotted to the creatures from the abyss—the Watchers punished for their sin—in chapter 11 of the Book of Revelation.
---
Click here for the complete archive of our New Testament Bible studies to date, and click here for the Old Testament studies to date. Or go to www.spreaker.com/show/gilbert-house-fellowship for all of the audio.