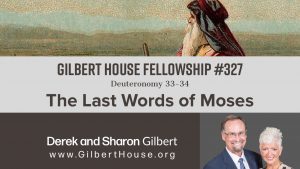 MOSES' FINAL blessing on Israel was in the form of prophecies over the tribes, along with a reminder that when God led the people from Sinai, He was accompanied by "ten thousands of holy ones."
"Holy ones" is a term used elsewhere in the Old Testament, always in reference to angelic beings. Yahweh's "march from the south" is a theme also noted in Habakkuk 3:3–7 and Judges 5:4–5. The references to Edom in those passages hint that Mount Sinai is located farther north than most people think.
We also discuss the prophecy over the tribe of Dan ("a lion's cub that leaps from Bashan"), the absence of Simeon from the tribes blessed by Moses, and the odd reference in Jude to the dispute between Michael and Satan over the body of Moses.
---
Derek's new book The Second Coming of Saturn is available now! You can buy it at the SkyWatchTV store, Amazon, or any major bookstore. 
The Bible's Greatest Mysteries is on the air! For more information, log on to www.BiblesGreatestMysteries.tv. Catch all of our studies on Bible prophecy at www.UnravelingRevelation.tv.
And subscribe to our new channels at YouTube for The Bible's Greatest Mysteries and Unraveling Revelation!
Our book Giants, Gods & Dragons is available in Kindle and paperback! Get it as part of a great package with more than 27 hours of our video teachings at the SkyWatchTV Store or at Amazon.com.
Click here for the complete archive of our New Testament Bible studies to date, and click here for the Old Testament studies to date. Or go to www.spreaker.com/show/gilbert-house-fellowship for all of the audio.