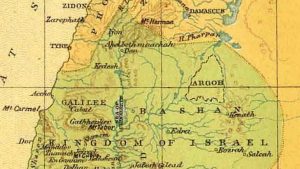 THE BIBLE is not a history book, but the history recorded in the Bible is accurate.
This week, we take a deep dive into Deuteronomy 3, in which Moses retells the history of the Israelites from the conquest of Og of Bashan through their encampment on the plains of Moab opposite Beth-Peor.
We follow a number of rabbit trails, including a discussion of new research, brought to our attention by Aaron Lipkin, that suggests that the tribes of Ephraim and Manasseh were already in Canaan when the other ten tribes began the conquest.
---
Our book Giants, Gods & Dragons is available in Kindle and paperback! Get it as part of a great package with more than 27 hours of our video teachings at the SkyWatchTV Store or at Amazon.com.
JOIN US IN ISRAEL! We will lead our next tour through the Holy Land March 31–April 9, 2024, with an optional three-day extension to Jordan, with visits to Mount Nebo, Wadi Rum, and Petra. Our special guest is Timothy Alberino!
For more information, log on to www.GilbertsInIsrael.com.
Derek's novels The God Conspiracy and Iron Dragons are available in paperback and Kindle! See the official trailers and learn more at the website for Rose Avenue Fiction (www.roseavenuefiction.com).
Click here for the complete archive of our New Testament Bible studies to date, and click here for the Old Testament studies to date. Or go to www.spreaker.com/show/gilbert-house-fellowship for all of the audio.