NEARLY ONE hundred years after Cyrus issued his decree allowing the Jews to return to Jerusalem, the walls of the Holy City still had not been rebuilt.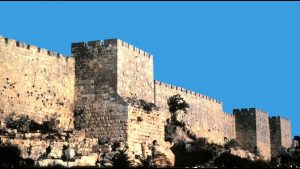 Nehemiah, cupbearer to the Persian king Artaxerxes, was granted permission to return to Judah for twelve years and oversee the rebuilding of the walls and gates of Jerusalem. We discuss the opposition to Nehemiah, from without and within, and how he directed his crews to work while prepared to defend themselves.
---
Josh and Christina Peck need your help. Pray for their son, Nathan, who was recently diagnosed with T-cell leukemia. The whole family is with Nathan while he's being treated. If you are led to help financially, you can do so at www.JoshPeckDisclosure.com/donate.
---