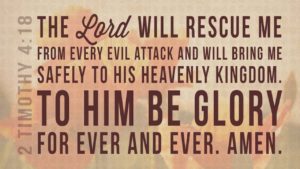 FAITH AND perseverance are at the heart of today's New Testament study. We conclude the remarkable Book of Hebrews with a discussion of the Old Testament patriarchs who were accounted righteous because of their faith even though they never saw the fulfillment of the promises of God. The command to show hospitality to strangers is also examined in light of recent political developments.
Then we move to Paul's second letter to Timothy, in which he exhorts the young man to keep fighting the good fight. It's a very personal letter with some poignant touches; most likely it was written during Paul's second imprisonment in Rome near the end of his life.
Join us in Dallas March 31-April 2 for the Hear the Watchmen conference, God's Great Gathering! Click here for information and to register. Save $20 with the promo code SKYWATCH!
---
Click here for the complete archive of our New Testament Bible studies to date, and click here for the Old Testament studies to date.