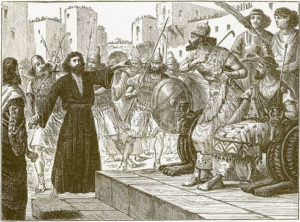 GOD HAS a council that carries out His commands, and this week we get one of the few glimpses into its workings recorded in the Bible. It's the story of Ahab's demise in battle against the Syrians at Ramoth-Gilead, where the king of Israel is enticed by lying spirits to go to his doom.
We also cover the career of the good king Jehoshaphat, the consequences of his decision to enter into a marriage alliance with Ahab, and the brief rule of the evil queen of Judah, Athaliah, who was nothing if not the daughter of her mother, Jezebel.
Join us in Dallas March 31-April 2 for the Hear the Watchmen conference, God's Great Gathering! Click here for information and to register. Save $20 with the promo code SKYWATCH!
---
Click here for the complete archive of our New Testament Bible studies to date, and click here for the Old Testament studies to date.