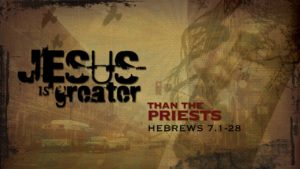 AGAIN WE find it impossible to get through more than a few chapters of the incredible Book of Hebrews. These chapters systematically make the case for the superiority of Jesus and the new covenant in his blood to the old covenant under the Law given to Moses.
It isn't expressed any more clearly in scripture than this:
Now if perfection had been attainable through the Levitical priesthood (for under it the people received the law), what further need would there have been for another priest to arise after the order of Melchizedek, rather than one named after the order of Aaron? For when there is a change in the priesthood, there is necessarily a change in the law as well.
Hebrews 7:11-12 (ESV)
We discuss the Order of Melchizedek and the significance of the change in the priesthood from the tribe of Levi to the tribe of Judah, the difference between the earthly temple and the Most Holy Place in heaven, and the need for the shedding of blood to redeem us from sin.
Join us in Dallas March 31-April 2 for the Hear the Watchmen conference, God's Great Gathering! Click here for information and to register. Save $20 with the promo code SKYWATCH!
---
Click here for the complete archive of our New Testament Bible studies to date, and click here for the Old Testament studies to date.