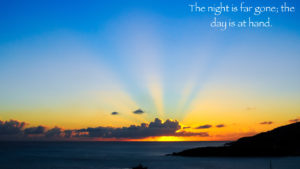 IT IS appropriate (and unplanned — by us, anyway), but appropriate — that our last New Testament study before the U.S. presidential election includes Romans 13:1-7. It is a command to Christians to "be subject to the governing authorities. For there is no authority except from God, and those that exist have been instituted by God."
That's not exactly a message we want to hear, especially after eight years of an administration that has repeatedly promoted initiatives that are opposed to biblical morality. But Paul wrote to the church at Rome during the reign of Nero, and if there ever was a time to call for Christian resistance to government, it was then.
Our reading today focuses on what should be our proper focus.  Our minds should be set on things of the spirit, not things of the flesh, and we should be prepared not only to tolerate and forgive an enemy, but to feed and clothe them in their need, "for by so doing you will heap burning coals on his head." Paul again here emphasizes that loving our neighbors as we love ourselves fulfills the Law.
We also discuss the predestination, the relationship between Gentile believers and Jews, and how our role in God's divine plan includes making the Jews jealous so that they come to accept Jesus as Messiah.
He concludes this section with a wonderful reminder of why we need to be about the Lord's business now more than ever:
Besides this you know the time, that the hour has come for you to wake from sleep. For salvation is nearer to us now than when we first believed. The night is far gone; the day is at hand. So then let us cast off the works of darkness and put on the armor of light.
Romans 13:11-12 (ESV)
Click here for the complete archive of our New Testament Bible studies to date, and click here for the Old Testament studies to date.