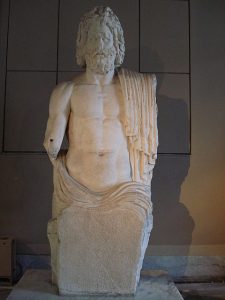 THE CONFLICT between Israel and Hamas continues with a ground assault of Gaza apparently imminent.
We continue our review of scriptures that appear to prophesy a coming destruction of the territory around Gaza that was Philistine from the time of the Judges until the Persian conquest of the region in the 6th century BC.
We learned this week that the chief god of Gaza, Dagon, continued to be worshiped under the Aramaic name Marna ("lord", similar to Canaanite baʿal and Hebrew adonai) until the 5th century AD. As Derek showed in his book The Second Coming of Saturn, Dagon was the same entity worshiped under the names Saturn, Kronos, El, Enlil, Assur, and Milcom/Molech, all of which were connected to the netherworld and most of which accepted or demanded human—especially child—sacrifice.
---
Our Build Barn Better project is nearly complete! Our 1,200 square pole barn now has HVAC, along with a new floor, windows, ceiling fans, upgraded electric service, and insulation. We're moving our studios out of our home and producing programs here now. Just some wall paneling and set dressing left before we're done! If you are so led, you can help out at GilbertHouse.org/donate.
Video on demand of our best teachings! Stream presentations and teachings based on our research at our new video on demand site!
Check out our online store! www.GilbertHouse.org/store is a virtual book table with books and DVDs related to our weekly Bible study. We're offering a number of special bundles which you can see here.
NOTE: New dates for our 2024 tour of Israel! We will lead our next tour through the Holy Land November 1–10, 2024 (dates pending confirmation with Lipkin Tours, with an optional three-day extension to Jordan featuring visits to Mount Nebo, Wadi Rum, and Petra. Our special guest is Timothy Alberino!
For more information, log on to www.GilbertsInIsrael.com.
Click here for the complete archive of our New Testament Bible studies to date, and click here for the Old Testament studies to date. Or go to www.spreaker.com/show/gilbert-house-fellowship for all of the audio.