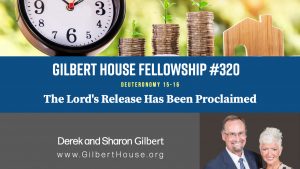 GOD NEVER intended for us to be in perpetual debt. Our modern banking system is a reversal of God's will and the fulfillment of prophecy—the work of the rider on the black horse (Rev. 6:5–6).
Financial servitude is not how God intended us to live. In our modern age of seven-year auto loans, twenty-year student loans, thirty-year mortgages, and perpetual credit card debt, the concept is almost unimaginable.
We also discuss the three main feasts required of Israel by God: Unleavened Bread, Weeks, and Booths (or Tabernacles, called Sukkot in Hebrew), and how the Feast of Booths connects to the Transfiguration, Mount Hermon, and the seventy "sons of El" who are probably the lesser elohim judged by God in Psalm 82.
Here is the link to the Institute of Biblical Anthropology, with courses taught by Dr. Judd Burton: www.tioba.org.
---
JOIN US IN ISRAEL! We will lead our next tour through the Holy Land March 19 – 30, 2023, with an optional three-day extension to Jordan, with visits to Mount Nebo, Wadi Rum, and Petra. For more information, log on to www.SkyWatchinIsrael.com.
Our book Giants, Gods & Dragons is available in Kindle and paperback! Get it as part of a great package with more than 27 hours of our video teachings at the SkyWatchTV Store or at Amazon.com.
Derek's novels The God Conspiracy and Iron Dragons are available in paperback and Kindle! See the official trailers and learn more at the website for Rose Avenue Fiction (www.roseavenuefiction.com).
Click here for the complete archive of our New Testament Bible studies to date, and click here for the Old Testament studies to date. Or go to www.spreaker.com/show/gilbert-house-fellowship for all of the audio.