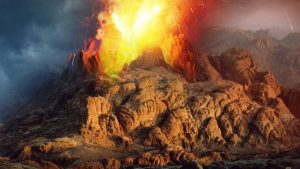 MANY OF US have been taught that it isn't possible to see God with our natural eyes and live. How do we reconcile that with the account of God personally eating a meal with Moses, Aaron, and the seventy elders of Israel?
The scripture verse is clear: And He did not lay His hand on the chief men of the people of Israel; they beheld God, and ate and drank. (Exodus 24:11)
This is an appearance by the Second Power in heaven, or Jesus in the Old Testament. This meal on Mount Sinai was a message from God to the spirit realm, aimed directly at the small-G gods of the nations, showing them God's ultimate plan to restore humanity to His divine council.
We discuss the contrast between this encounter and the ritual Rephaim Texts from the Amorite kingdom of Ugarit. This is another example of God reversing a pagan ritual to demonstrate His power and authority.
---
Our book Veneration is available for Amazon's Kindle e-book reader! Click here and find out why readers rate Veneration 4.7 out of 5, describing it as "a must read" that "opens up…the Bible's hidden mysteries."
Click here for the complete archive of our New Testament Bible studies to date, and click here for the Old Testament studies to date. Or go to www.spreaker.com/show/gilbert-house-fellowship for all of the audio.