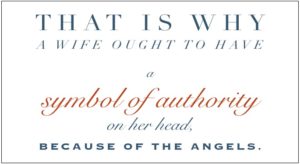 WE CONTINUE our study of the most remarkable books of the Bible, 1 Corinthians. This week, we cover Paul's instructions to the church concerning sexual immorality, lawsuits against fellow believers, the right of those in full-time ministry to earn their living in that calling, marriage and divorce, eating food sacrificed to idols, and taking the Lord's Supper with an unrepentant heart.
We also discuss what Paul meant when he told the Corinthians that "we are to judge angels" (1 Cor. 6:3), and the puzzling verses (1 Corinthians 11:2-16) telling wives to "have a symbol of authority" on their heads, "because of the angels."
This was actually based in the 1st century understanding of human physiology. It was believed by the top physicians and scientists of the day, like Hippocrates (of the Hippocratic Oath), that hair was hollow and exerted suction inside the body to draw reproductive fluid into the shafts. Thus, men with long hair were preventing the fluid leaving the body, and women with short hair prevented the fluid from being drawn up into the body to produce children.
Further, since a woman's hair was considered part of her reproductive system, appearing in church with her head uncovered was considered, well, indecent. And the Mount Hermon incident with the Watchers, the angels who "left their proper dwelling" and took human wives (see Genesis 6:1-4), was clearly in Paul's mind when he wrote these verses.
For a more thorough analysis of the head covering of 1 Corinthians 11:13-15, give a listen to Dr. Michael Heiser's Naked Bible Podcast episode #86.  Here are links to the papers Mike references in his podcast (links open PDF documents):
Click here for the complete archive of our New Testament Bible studies to date, and click here for the Old Testament studies to date.