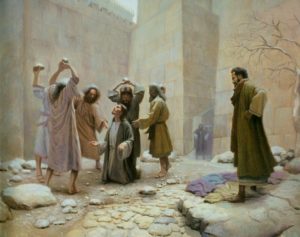 THE EARLY church grows by leaps and bounds in the days after Pentecost. But things weren't perfect because (surprise!) the apostles were human, too.
We discuss the dispute between Greek and Jewish believers over the care of widows and the deception of Ananias and Sapphira. We also cover the sort-of conversion of Simon Magus, the conversion of the Ethiopian eunuch, and the stoning of Stephen — our introduction to Saul of Tarsus, who would arguably become the greatest of all the apostles.
Here is the link Derek promised to the article at Lion and Lamb Ministries on the Ethiopian tradition about the Ark of the Covenant.
Click here for the complete archive of our New Testament Bible studies to date, and click here for the Old Testament studies to date.