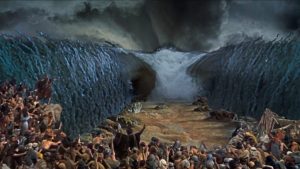 THE RED SEA crossing is an iconic moment in the Bible, the history of Israel, and in movies (thanks to legendary producer/director Cecil B. DeMille). But it's way cooler than you might know.
We explain why this event was far more than just Israel's escape from Egypt. For example, have you ever noticed that God directed Moses to turn around and camp—in other words, to stop and wait for the Egyptian chariots to catch up?
The significance of their campsite is also important, and we note the presence of other supernatural players in this drama. God didn't just deliver Israel from the hand of pharaoh; He delivered Israel from the gods—the rebel angels who had rejected His authority.
---
Our book Veneration is available for Amazon's Kindle e-book reader! Click here and find out why readers rate Veneration 4.7 out of 5, describing it as "a must read" that "opens up…the Bible's hidden mysteries."
Click here for the complete archive of our New Testament Bible studies to date, and click here for the Old Testament studies to date. Or go to www.spreaker.com/show/gilbert-house-fellowship for all of the audio.