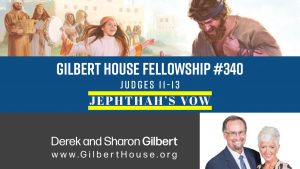 JUDGES 11 describes an event in Israel's history that is difficult to reconcile with a loving God.
Jephthah, the son of man of the tribe of Manasseh by a prostitute, is called upon by the people of Gilead to lead them into battle against the kingdom of Ammon, which had invaded their territory. Jephthah, described as "a mighty warrior," vowed to God that he would sacrifice as a burnt offering "whatever [or "whoever"] comes out from the doors of my house to meet me when I return." (Judges 11:30–31).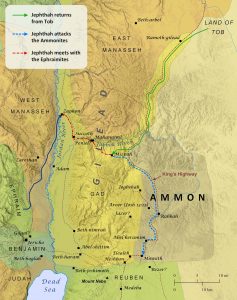 This illustrates the foolishness of swearing a rash vow to God. It is also evidence that the Bible has not been edited over the centuries, for surely an event like this would have been deleted to remove any hint that Jephthah's vow and subsequent sacrifice was acceptable to God.
However, not all scholars believe that Jephthah's daughter became a burnt offering. The Septuagint translation suggests that she was instead dedicated to God through a vow of chastity. In that time, being childless was normally considered a mark of shame. For more on this, see "Did Jephthah Kill His Daughter?" by Solomon Landers at Biblical Archaeology Society Online (link: https://www.baslibrary.org/bible-review/7/4/15) and "Daughter of Jephthah: Bible" by Karla Bombach at the Jewish Women's Archive (link: https://jwa.org/encyclopedia/article/daughter-of-jephthah-bible).
It appears the real sacrifice was the end of Jephthah's patrimony, since his daughter was his only child. By dedicating her to God, the bloodline of Jephthah came to an end.
---
Get our free app! It connects you to these studies plus our weekly video programs Unraveling Revelation and A View from the Bunker. Best of all, it bypasses the gatekeepers of Big Tech! The app is available for iOS, Android, Roku, and Apple TV. Links to the app stores are at www.gilberthouse.org/app/.
Check out our online store! www.GilbertHouse.org/store is a virtual book table with books and DVDs related to our weekly Bible study. We're offering a number of special bundles which you can see here.
TRAVEL WITH US TO TURKEY! Join us and our special guests Dr. Judd Burton and Dr. Aaron Judkins as we visit the churches of Revelation, Göbekli Tepe, Abraham's home town Harran, the "Gates of Hell," Mount Nemrut, and much more. Dates are October 17–November 3, 2023. More information is available at GilbertHouse.org/travel.
NOTE: New dates for our 2024 tour of Israel! We will lead our next tour through the Holy Land November 1–10, 2024 (dates pending confirmation with Lipkin Tours, with an optional three-day extension to Jordan featuring visits to Mount Nebo, Wadi Rum, and Petra. Our special guest is Timothy Alberino!
For more information, log on to www.GilbertsInIsrael.com.
Click here for the complete archive of our New Testament Bible studies to date, and click here for the Old Testament studies to date. Or go to www.spreaker.com/show/gilbert-house-fellowship for all of the audio.