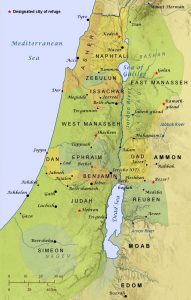 IT DIDN'T take long for Israel to forget God. Within thirty years of arriving in Canaan, God was compelled to tell the Israelites that because of their disobedience, He would not drive out the people before them.
This is a pattern that repeats throughout the Book of Judges. We discuss the failure of Israel to obey God's command to push the Canaanites, Amorites, and Perizzites (Philistines) out of the land, the apparent contradiction over the destruction of Jerusalem by the tribe of Judah and the fact that the Jebusites still controlled it nearly 400 years later in the time of David, and why Jerusalem was important despite being smaller than other cities of the region at the time.
Join us for a weekend retreat! March 4-6, 2022, we'll be at at the beautiful Finley River Ranch in Sparta, Missouri, teaching Friday night, Saturday, and Sunday morning on prophecy, politics, and the end times. Lunch Saturday and Sunday is included.
Sparta is about halfway between Springfield and Branson in the Missouri Ozarks. For information and registration, log on to www.HisCallMinistries.com.
Save $20 on the Eyes to See Conference! The Gilberts will be in Dallas March 17–20, 2022, with L. A. Marzulli, Pastor Paul Begley, and other great speakers. Use promo code GILBERT20 for $20 off registration at www.HearTheWatchmen.com.
---
TRAVEL WITH US TO TURKEY! Join us and our special guests Dr. Judd Burton and Dr. Aaron Judkins as we visit the churches of Revelation, Göbekli Tepe, Abraham's home town Harran, the "Gates of Hell," Mount Nemrut, and much more. Dates are October 17–November 3, 2023. More information is available at GilbertHouse.org/travel.
JOIN US IN ISRAEL! We will lead our next tour through the Holy Land March 31–April 9, 2024, with an optional three-day extension to Jordan, with visits to Mount Nebo, Wadi Rum, and Petra. Our special guest is Timothy Alberino!
For more information, log on to www.GilbertsInIsrael.com.
The Bible's Greatest Mysteries is on the air! For more information, log on to www.BiblesGreatestMysteries.tv. Catch all of our studies on Bible prophecy at www.UnravelingRevelation.tv.
And subscribe to our new channels at YouTube for The Bible's Greatest Mysteries and Unraveling Revelation!
Derek's new book The Second Coming of Saturn is available now! You can buy it at the SkyWatchTV store, Amazon, or any major bookstore. 
Click here for the complete archive of our New Testament Bible studies to date, and click here for the Old Testament studies to date. Or go to www.spreaker.com/show/gilbert-house-fellowship for all of the audio.