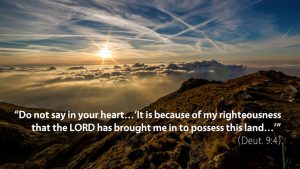 OUR GOD is "God of gods and Lord of lords." This isn't just hyperbole; it means that Yahweh is supreme among the denizens of the spirit realm.
This week, we discuss Moses' admonitions to the Israelites before they crossed the Jordan to dispossess the nations of Canaan, why Moses singled out the Anakim, and his warning to remember that God didn't choose the Israelites as His inheritance because of their righteousness.
Here's the link to the peer-reviewed paper we mentioned during the study, "A Tunguska sized airburst destroyed Tall el-Hammam a Middle Bronze Age city in the Jordan Valley near the Dead Sea." The paper details the scientific evidence supporting the claim that Tall el-Hammam was ancient Sodom.
---
Our book Giants, Gods & Dragons is available in Kindle and paperback! Get it as part of a great package with more than 27 hours of our video teachings at the SkyWatchTV Store or at Amazon.com.
JOIN US IN ISRAEL! We will lead our next tour through the Holy Land March 31–April 9, 2024, with an optional three-day extension to Jordan, with visits to Mount Nebo, Wadi Rum, and Petra. Our special guest is Timothy Alberino!
For more information, log on to www.GilbertsInIsrael.com.
The latest installment of Sharon's Redwing Saga, King's Gambit, is available now in paperback and Kindle! Visit Sharon's author page at Amazon.com for more.
Derek's novels The God Conspiracy and Iron Dragons are available in paperback and Kindle! See the official trailers and learn more at the website for Rose Avenue Fiction (www.roseavenuefiction.com).
Click here for the complete archive of our New Testament Bible studies to date, and click here for the Old Testament studies to date. Or go to www.spreaker.com/show/gilbert-house-fellowship for all of the audio.